little angry & the sweets
upcoming shows
No shows at the moment.
music
facebook / bandcamp / soundcloud
videos
a little history
Little Angry and the Sweets
is a utopian music project attempting to be a tiny swirl of harmony within the crushing dissonance of capitalism. It's an excuse to eat dinner with friends, and play covers poorly remembered. It's the reason to bake bread and to go to LA and eat elote by the lake every once in a while.
Pix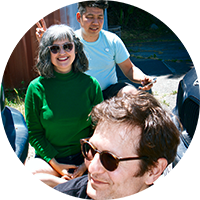 Homes
El Cerrito, California (2017 - present)
Oakland, California (2013 - 2017)
Olympia, Washington (2003 - 2013)
Kailua, Hawaii (1985 - 2003)
Members
Current
Evan Hashi - songs, drums & vocals
Joe Kuta - guitar & vocals (Joe Kuta)
Jen Weisberg - songs, bass & vocals (Hits)
Bennett Schatz - saxophone
Past/Intermittent
Davi Jaberi, keyboards
Turner Canty, keyboards
booking
Contact me at
evan at littleangry.org
.